ABOUT US
DRONE Electrical Solutions is a skilled electrical contractor based in Evansville, Indiana, dedicated to performing high quality inside electrical construction work. DRONE Electrical Solutions works directly with customers and in coordination with other skilled contractors to reliably provide quality solutions for design/build, medium voltage, motor control, instrumentation, power distribution, parking lot lighting, data, fire alarms, touchless/occupation sensors, lighting retrofits, and other electrical services common to commercial and industrial environments.
Founded in 2021, DRONE Electrical Solutions is led by the husband-and-wife team of Katy Nimnicht, President, and Mike Drone, Lead Electrician. Mike's electrical experience coupled with Katy's business acumen yield advantages for commercial and industrial customers including high-quality, safety-forward inside electrical construction services; unique, customer-driven solutions; and prompt, nimble response time.

DRONE Electrical Solutions is a proud signatory contractor of International Brotherhood of Electrical Workers (IBEW) Local Union 16. Our primary service area coincides with the jurisdiction of IBEW Local Union 16, which covers Crawford, Daviess, Dubois, Gibson, Lawrence, Martin, Orange, Perry, Pike, Posey, Spencer, Vanderburgh, and Warrick counties in Indiana, and Wabash County in Illinois.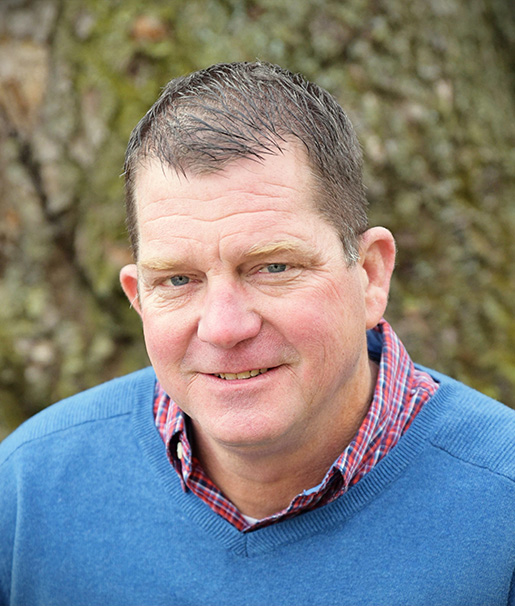 Lead Electrician
Mike Drone
Mike Drone is a Master Electrician with more than 20 years of experience as a field electrician, project manager, site supervisor, and electrical trade instructor who has earned a reputation for providing commercial and industrial clients with high-quality, on-time, on-budget electrical work.
As an active member of the West Side Nut Club, Mike has led the electrical committee that powers the annual West Side Nut Club Fall Festival and has donated his time and electrical talent to several other Nut Club projects. Mike's community involvement has also included working at numerous summer socials, spot shoots, athletic club events, and other fundraisings for St. Boniface Parish and School (St. Agnes and St. Boniface); coaching his children's wrestling, baseball, and softball teams; and working alongside other IBEW electricians to set-up and tear-down the Ritzy's Fantasy of Lights, benefitting Easterseals Rehabilitation Center.
An avid fisherman and boater with dreams of enjoying the lake life full-time in retirement, Mike would welcome the opportunity to use your new construction or renovation project as an excuse to spend a little extra time in the Lake Barkley/Kentucky Lake area.
Katy Nimnicht has more than 20 years of experience in professional services business development, private sector marketing and communications, agency-based public relations and advertising, public sector communications and policy development, and community service.
Since returning home to Evansville after graduating from Butler University, Katy has served the Evansville community through volunteer and board positions with Catholic Education Foundation, Evansville Redevelopment Commission, Evansville Certified Technology Park Organizing Committee, Wesselman Nature Society, Healthier Evansville, Youth First, Leadership Evansville, move*ment Initiative, Evansville Downtown Master Plan Implementation Committee, Evansville Smart Growth Group, and other civic organizations. She greatly enjoyed the years she coached her son's soccer teams when he played at Evansville Youth Soccer-East.
With Katy's lifelong interest in learning how things work and "tendency toward" competitiveness and hyper-attention-to-detail, it is fitting that Virginia Lee Burton's "Mike Mulligan and His Steam Shovel" has been one of her favorite books since childhood.